Dirty water? Exmouth Beach wins Blue Flag award, bathing water quality rated 'excellent' despite sewage spills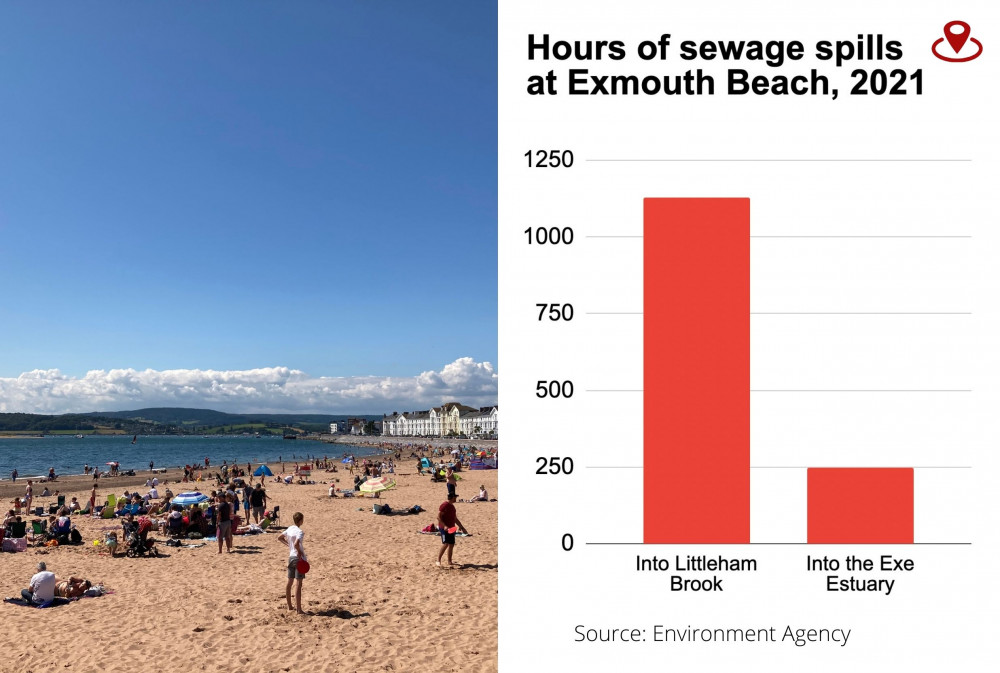 L: Exmouth beach. R: Line chart showing total hours of sewage spills relating to Exmouth Beach bathing waters in 2021
Exmouth Beach has won a Blue Flag award for the fourth year in a row.
The Blue Flag awards are awarded by national charity 'Keep Britain Tidy', and just 80 were given out across the UK. The charity also gave Exmouth a 'Seaside' award.
According to Keep Britain Tidy's chief executive, people who visit a beach with a Blue Flag or Seaside award "can be assured the beach will be clean, safe and meet the highest environmental standards, as well as international bathing water quality standards."
Blue Flag beaches must reportedly meet the 'excellent' water quality standard in the EU bathing water directive and Seaside award winners have to have the 'sufficient' standard.
What is water quality like at Exmouth Beach?
The Environment Agency, a public body, rated the bathing water quality at Exmouth 'excellent' (its own classification) after testing for E coli and intestinal enterococci bacteria in the 2021 season.
The findings came despite over 1,300 hours of sewage spills recorded in 2021 in relation to Exmouth Beach in data published by the same government agency.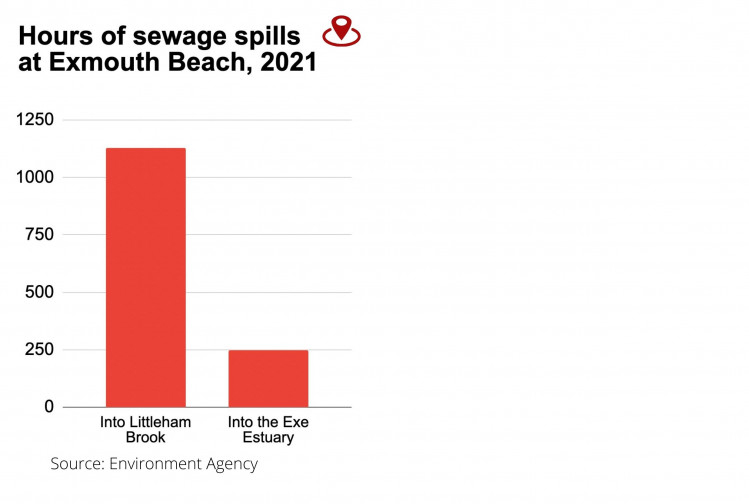 Line chart showing total hours of sewage spills relating to Exmouth Beach bathing waters in 2021
The data for Exmouth Beach sewage spills include:
Hartopp Road CSO, 50 times for a total of 118.9 hours into the Exe Estuary;
Imperial Road Tank CSO, 15 times for a total of 102.4 hours into the Exe Estuary;
Maer Road CSO, 74 times for a total of 1128.35 hours into Littleham Brook;
Phear Park PSEO/CSO, 18 times for a total of 27.44 hours into the Exe Estuary.
*CSO = combined sewer overflow, i.e. a valve to allow excess sewage in 'combined' sewers (for rainwater and sewage) to overflow into watercourses, the sea.
The Environment Agency has described CSOs as 'necessary' to prevent sewage flooding homes and says overflows 'of diluted sewage during heavy rainfall are not a sign that the system is faulty'.
PSEO = pumping station emergency overflow.