Exmouth Dinan Way bid backed in Parliament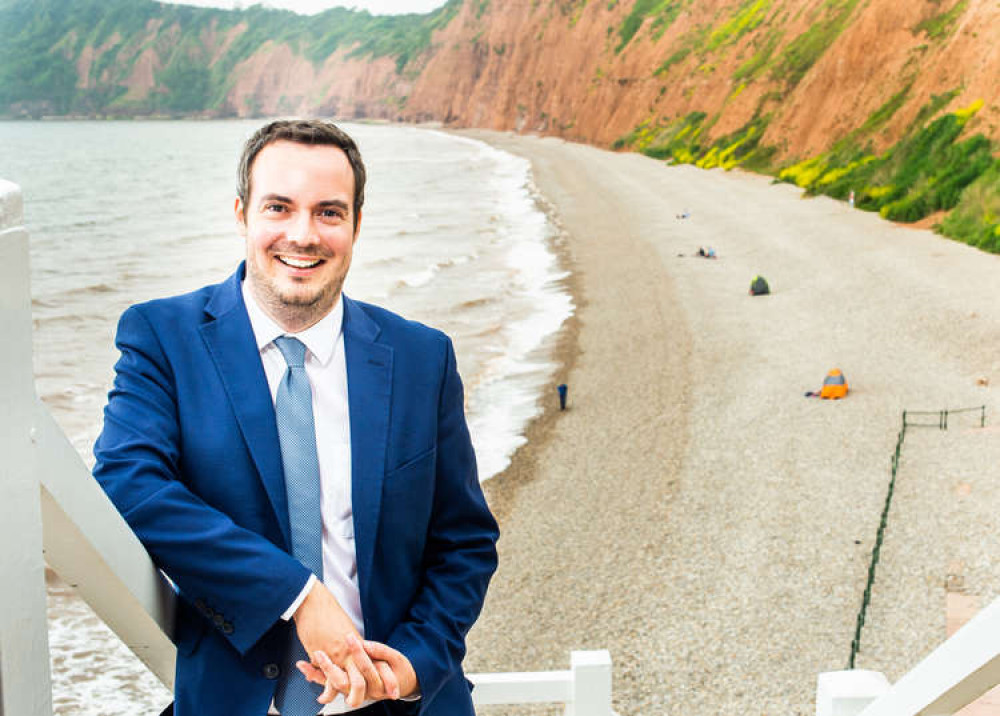 East Devon MP Simon Jupp. Credit: Gareth Williams
An extension to Exmouth's Dinan Way – an idea that's been fermenting for 40 years – has been raised in parliament by East Devon MP Simon Jupp, in a debate involving the Secretary of State for Housing Robert Jenrick.
Mr Jupp is supporting Devon County Council's bid for £15 million from the government's Levelling Up Fund, a £4.8 billion kitty for the town centre and high street regeneration, local transport projects, as well as cultural and heritage assets.
The Dinan Way extension is Devon County Council's priority application to the fund.
The original plan
The main road through a housing estate largely constructed in the 1970s was always intended to link with the A376 Exmouth to Exeter road. It never has, even though consultation on possible options come and go. Two options went to public consultation in 2015. Although planning permission was granted two years later, not much has happened since.
What happened in Parliament
Mr Jupp praised the new bid, arguing that if the Dinan Way completion went ahead it would improve journeys into Exmouth and cut congestion.
Robert Jenrick backed the idea, describing Exmouth as: "Exactly the kind of place that these funds were designed to support."
He added: "I very much look forward to reviewing the advice from officials with respect to the levelling up fund and, if it is a successful bid, to seeing a positive change for his constituents in the months and years ahead."
Could the Dinan Way extension improve air quality?
Speaking to the Local Democracy Reporting Service earlier this month, Mr Jupp argued that the road might have green credentials, saying: "Sometimes roads can improve local life by actually reducing the amount of emissions because if you're at a standing start in your car you are polluting the local air more than you would do if you're travelling a bit more smoothly.
"It's just a no-brainer for me."
Asked if it would be better to invest in public transport to get cars off the road Mr Jupp added: "You can't drive a truck down a train line. You need to think about what business needs, too.
"It's about improving air quality. I don't see how massive trucks going through the centre of Exmouth to get to the other side of the town is at all helpful for air quality.
"To me, it's a given that it's something we should do and I really hope the government back the extension. It is the priority bid from Devon and I'm really hopeful for it."
Green Party councillor for Exmouth Town Olly Davey has mixed feelings about the development. He says he understands the need to combat rat runs on Exmouth's roads, but doubts the extension's environmental benefits in the long run.
He said: "All the evidence shows that building roads simply creates more traffic.
"I think any effect will be marginal, and the new road will soon become as clogged as any other.
"There are far better ways of reducing pollution, and the main one is to reduce reliance on the car by providing better public transport and cycling provision.
"As to whether the new road is a good investment for Exmouth, that remains to be seen, and it begs the question of what else the funding could have been spent on."
What can we expect?
If given the go-ahead, Dinan Way in Exmouth would be extended to connect with the A376. It is hoped this would reduce traffic in the town.
The extension has had planning permission since 2017 and now needs government funding to get it over the line.
—————
Enjoyed this article? For daily updates on what's happening in Exmouth, follow us on Facebook and Twitter. You can also sign up to our free weekly newsletter featuring exclusive articles for subscribers - just type your email into the box below.