Exmouth traders' dismay over 'massive hike' in grassed outdoor seating rents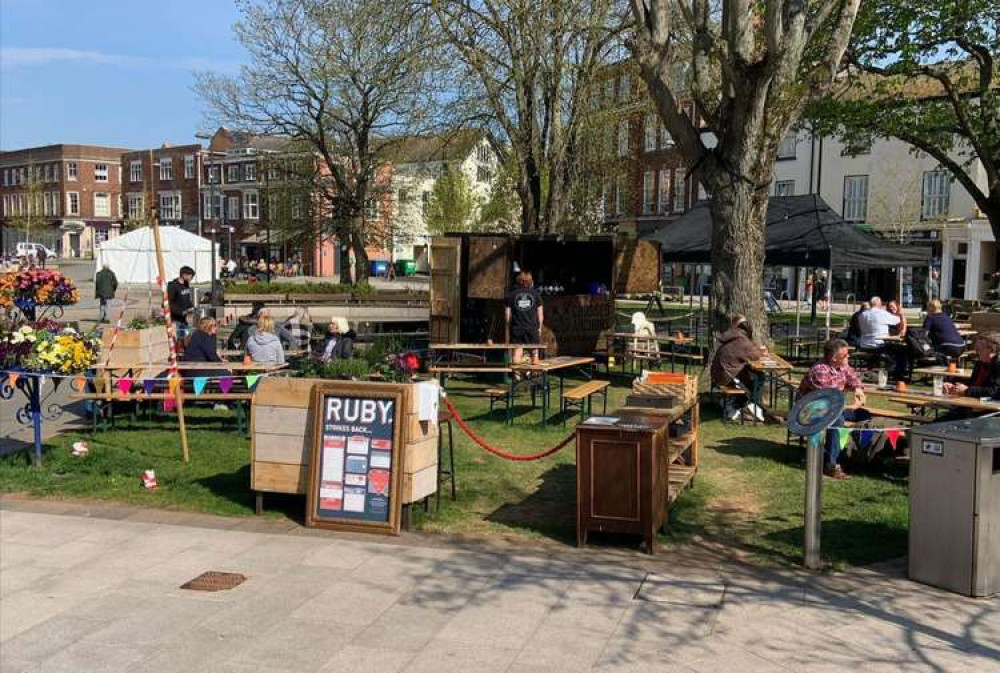 An example of outdoor seating on a grassed area of the Strand in 2021 (The Grapevine Brewhouse)
Several Exmouth businesses have objected to rises in rental costs for using grassed areas on the Strand in Exmouth.
The charge paid to East Devon District Council for using the areas for outdoor seating was £100 last year, the businesses said. Now, it's into the thousands.
For example, Franklins Cafe and Bar said it would now have to pay £1,700 (£4,080 pro rata), and Spoken £6,000 (£14,400 pro rata) for the grassed areas.
These charges are unrelated to the outdoor seating on the paved areas of the Strand, which cost £100 per year from Devon County Council.
Oliver Bainbridge, owner of The Grapevine Brewhouse near the Strand, said: "Our rent last year was £100. This year, it's going to be £4,500, which is obviously a massive hike of 45 times the previous year.
"We are very aware this is public land and we need to pay for this. We don't want this for free, what we want is a sensible and measured approach."
'East Devon deserves better' - Simon Jupp MP
The businesses are being supported by East Devon MP Simon Jupp.
He said: "Charging businesses in the Strand several thousand pounds to put out a few tables and chairs is unacceptable.
"The government relaxed the rules around alfresco dining to help cafes, bars and restaurants after a difficult two years.
"I have called on East Devon District Council to rethink their rip-off rent increases which won't help struggling businesses.
"After doubling the price of parking and announcing plans to close public toilets, local businesses need all the help they can get. East Devon deserves better."
Response from district council
East Devon District Council has said that the issue is about whether or not it's appropriate for the council 'to subsidise local businesses that adjoin the Strand in Exmouth'.
Using an outside agency, the council has also said that negotiations with traders for the Queen's Drive Space on Exmouth seafront have been 'very successful' - and it can see 'no reason' why it can't be the same for traders on the Strand.
A spokesperson for East Devon District Council said: "This matter is the subject of a commercial negotiation that began last week.
"At its core is the issue of whether it is appropriate for the council to subsidise local businesses that adjoin the Strand in Exmouth.
"This happened during the COVID lockdown period when stringent social distancing arrangements were in place but as we know we are all now learning to live with COVID.
"Our request is that the traders interested in a space now engage with the council's agents and we look forward to saying more in the very near future.
"We recently completed very successful negotiations through the same agency for pitches at Queen's Drive Space on Exmouth seafront and can see no reason why the Strand traders would not wish to engage in the same process."
—————
Got an Exmouth story you want to share with us? Email [email protected]
For daily updates on what's happening in Exmouth, follow us on Facebook and Twitter. You can also sign up to our free weekly newsletter featuring exclusive articles for subscribers - just type your email into the box below.