New EV chargers coming soon to Exmouth, Lympstone, Budleigh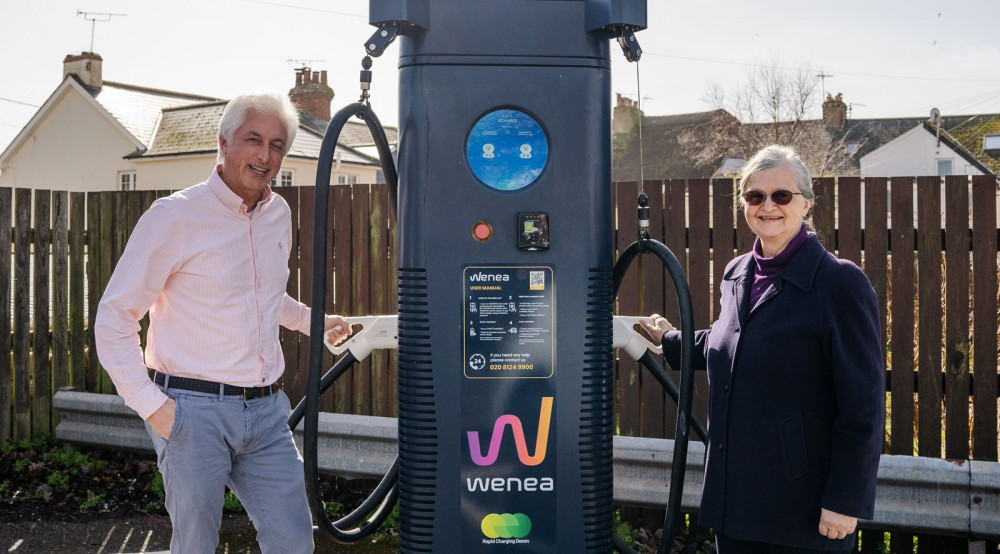 Jose Contreras of Wenea and Cllr Marianne Rixson with new EV charger (EDDC)
New electric vehicle chargers are now ready for use in Sidmouth's Roxburgh car park, according to East Devon District Council.
They have also been installed in Dolphin Street car park in Colyton, West Street car park in Axminster and Central car park in Beer.
More charging bays are coming soon to Sidmouth's Ham (West) car park, as well as Halsdon Road, St Andrews Road and Imperial Road car park in Exmouth, Holman Way in Topsham, Lympstone car park and Rolle Mews car park in Budleigh Salterton.
Cllr Marianne Rixson (Independent East Devon Alliance, Sidmouth Sidford) said: "I am delighted to see that EV chargers... have been installed and will be operational in time for the Easter holidays, which is very good news."
Head of Wenea UK Jose Contreras said: "The East Devon rapid chargers are part of a wider charging network being rolled out across Devon, providing EV charging for local people as well as supporting the important tourism economy in the area."
The rapid chargers in East Devon will reportedly take around 40 minutes to charge an EV battery to 80% full at a cost of £0.55/kWh.
Payment can be made through the Wenea app.