East Devon solar farm plans put on hold
By Georgia Cornish - Local Democracy Reporter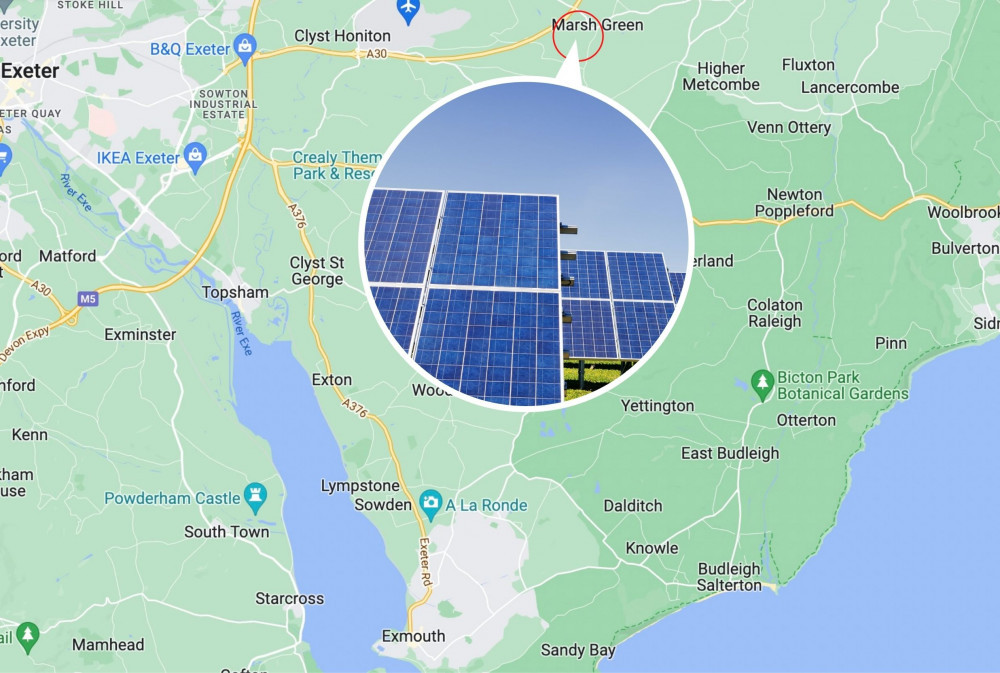 The farm would be built on land neighbouring the A30 (Google Maps). Inset: Example of solar panels (Unsplash)
Plans to develop land at Marsh Green in East Devon into a solar farm have been put on hold, despite planning officers having recommended approval.
The plans, submitted by Mr P Cookson of the Low Carbon Alliance, request use of the land for the next 40 years for solar arrays, equipment housing, a sub-station, fencing and ancillary equipment, and is one of two solar developments currently being considered in the district.
East Devon District Council aims to be a carbon-neutral council by 2040, with a five-year action plan that includes themes around improving the carbon output of the energy supply and consumption of the district.
Cllr Richard Lawrence (Whimple and Rockbeare, Conservative) expressed concerns surrounding flood risks in the area, believing that the plans laid out would "most certainly exacerbate the problem." The Environment Agency, in its consultation, requested that the development avoids the areas with the highest flood risk and doesn't create increased risk elsewhere.
Local residents share these flooding concerns, with Paul Jefferson (chairman of Marsh Green valley protection group) noting that the proximity of the solar farm to the village was unprecedented and that the plans should include a clause that those responsible for the land must maintain all flood defences to ensure the safety of nearby residents.
A representative of the Low Carbon Alliance, when defending the application, referenced a report commissioned by Devon County Council in 2018 that revealed that only nine per cent of the county had access to renewable energy. In the days leading up to the meeting, an update on this report was released which showed that this number had decreased to 5.6 per cent. The current target, set by the government is that 80 per cent of UK residents should have access to renewable energy by 2030.
Residents also raised concerns regarding the loss of "high-quality arable land" for the next 40 years.
The plans were put on hold pending a formal site visit, a motion that was carried by eight votes to three.