No BBC local radio programming at weekend 'drastic', Exmouth's MP says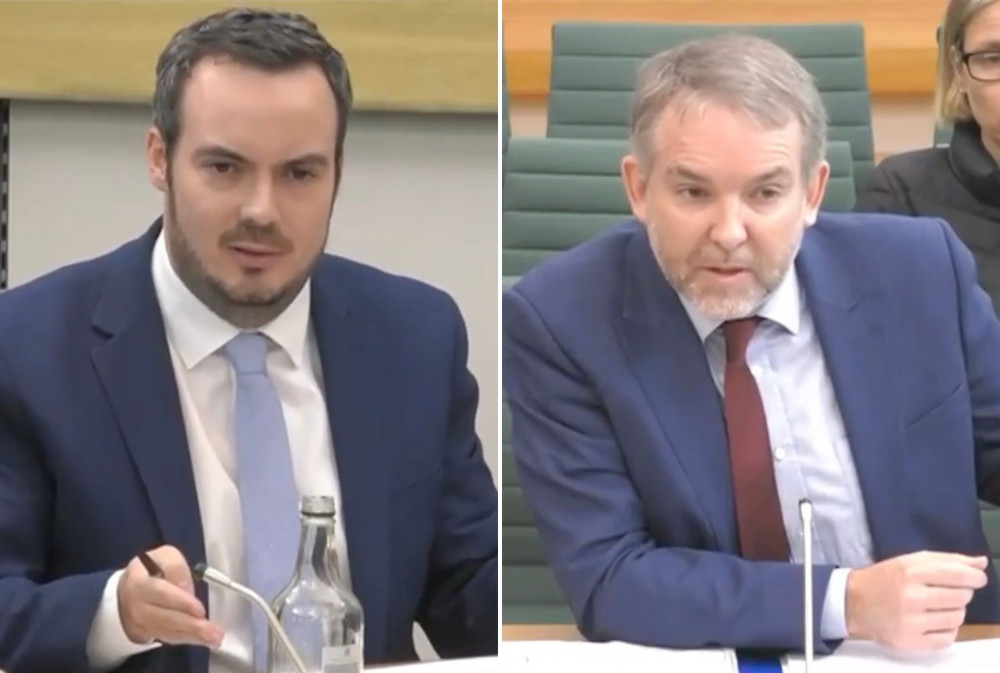 L: Simon Jupp MP. R: Director of BBC Cymru Wales Rhodri Talfan Davies (UK Parliament)
East Devon MP Simon Jupp described cuts to BBC local radio weekend programming as "drastic" at a meeting of the Digital, Culture, Media and Sport Select Committee on Thursday (1 December).
The meeting saw BBC executives questioned by MPs on the proposed cuts to local radio provision.
Under the plans, BBC local radio stations would keep their own programming on weekdays from 6am to 2pm. This would then be cut to 18 shared regional programmes until 6pm, then 10 more such programmes until 10pm.
At weekends, there would be similar regional programmes all day on Saturdays and in the morning on Sundays. A national programme would also be broadcast after 10pm every day and also on Sunday afternoons and evenings.
Local news bulletins and live sport would not be affected.
No local programming at weekend 'drastic' - Simon Jupp MP
East Devon MP Simon Jupp said: "Having no local programming at the weekend - and what I mean by local is county-focused, local programming outside of sport - is drastic.
"Sometimes the peak of the week for a radio station is Saturday morning between 10am and 12pm. Why is that now going to be networked?
"Isn't there an argument, if you've had feedback from loads of people about these changes to reinstate local programming, at least one local program a day, at the weekend? Is this effectively managing decline?"
Weekend audience 'significantly lower' - BBC executive
Director of BBC Cymru Wales Rhodri Talfan Davies said in response: "The vast majority of stations as you already pointed out, will have live sport both on Saturday and Sunday, which is fully live and stays live.
"And those are typically the peaks that we see in the weekend schedules.
"We'll also maintain all our local bulletins up till 2pm as we do now across all our local stations.
"But it is also the case if you look across the 39 stations that our performance on Saturday and Sunday and the level of audience that we bring in is significantly lower than we see on weekdays.
"If we continue to spend 90 per cent of our local funding on local radio and on the six 30 local news programs, we will inevitably, because of the shape of the marketplace, be managing decline."