Name this horse, Exmouth Museum asks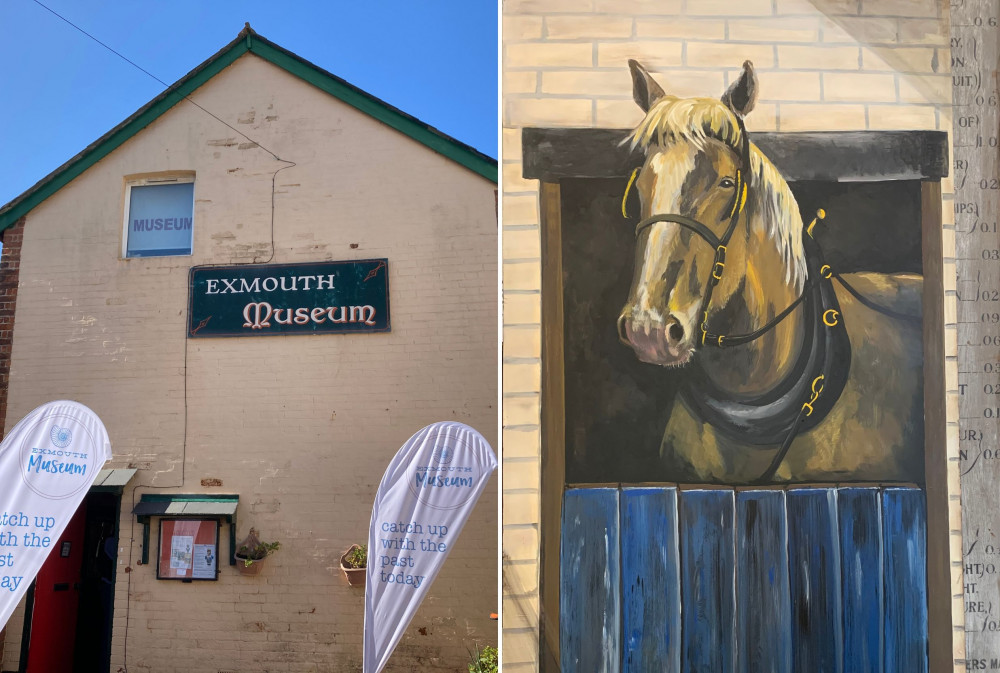 L: Exmouth Museum and Heritage Centre (Nub News, Will Goddard). R: The future mural (Exmouth Museum and Heritage Centre, Gary Cook)
The newly christened Exmouth Museum and Heritage Centre is to have a giant mural of a horse on the front of its building - and it's running a competition for children to name it.
The mural has been created by local artist Gary Cook and the materials were donated by Jewsons on Withycombe Village Road.
A spokesperson said: "The mural is of a horse to remember the horses that were stabled in the building in Victorian and Edwardian times that now houses the museum.
"These two horses were called Violet, who was led by Jack Christopher, and Prince, led by Alfred Stuart.
"The horses pulled carts to collect the town's waste and to repair the roads. Prince won many prizes at horse shows and fairs. The yard also housed the town's fire pump for the 'steamer' fire engine and other dray horses were used to pull that. The museum has lots of information and pictures of the time these horses were at the stables.
"There was a public outcry when it was discovered that on Violet's retirement, she had been sent straight to the knackers yard and following this when Prince retired he was allowed to live out his life in dignity in local fields."
How to enter
The competition opens at 10am on Monday 1 August and closes at 4pm on Thursday 11 August.
To enter, you must be between five and 11 years old, and write the name you have chosen for the horse on a piece of paper together with your name, age, address and parent(s) name(s) and a contact number on paper and hand it in to the museum. The museum is open Monday to Thursday, 10am to 4pm and Saturday 10am to 1pm.
Judging will take place on Friday 19 August.
The winner will get a prize of artist's materials, and be the guest of honour with their parent(s) at the official unveiling of the mural by Mayor of Exmouth Steve Gazzard with the Town Crier on Saturday 10 September at 11am.