PM resignation: Exmouth's MP reacts
By Georgia Cornish - Local Democracy Reporter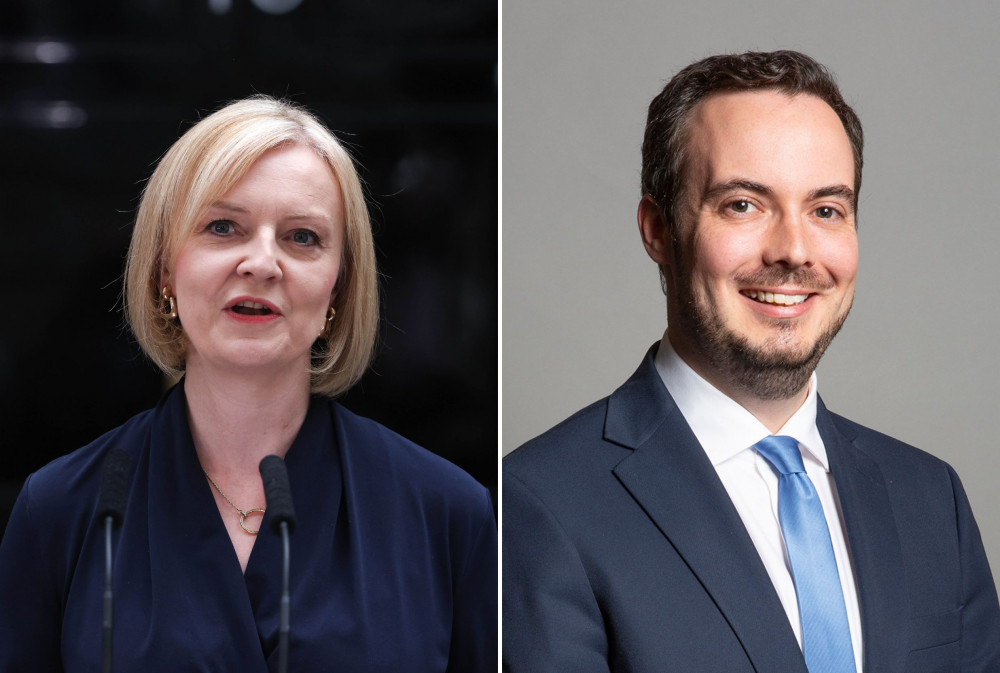 L: Liz Truss (By Prime Minister's Office, OGL 3, https://commons.wikimedia.org/w/index.php?curid=122729965). R: Simon Jupp MP (By David Woolfall, CC BY 3.0, https://commons.wikimedia.org/w/index.php?curid=86665477)
Devon's MPs have been giving their reaction to the resignation of the second prime minister in two months.
Liz Truss will stay on in Downing Street until a new leader is elected on Friday 28 October.
She becomes the country's shortest-serving prime minister since in 1809, who died in office.
MP Simon Jupp (Conservative, East Devon), whose constituency includes Exmouth, said: "The Prime Minister has taken the right and honourable step given the situation. The Conservative Party must now quickly unite around a new leader to continue to deliver for our great country."
Reactions from other Devon MPs, politicians
Devon's newest MP, Richard Foord (Liberal Democrats, Tiverton & Honiton) said: "This Conservative instability has gone on long enough. Our country is in the midst of a cost-of-living crisis, with people and businesses crying out for steady hands on the wheel.
"The very last thing we need right now is another Conservative stitch-up with an un-elected Prime Minister lurching from crisis to crisis, without any mandate from the people.
"We need a general election, so we can get this car-crash of a government out of power and deliver the real change our communities need."
His colleague Martin Wrigley (Liberal Democrat, Newton Abbot candidate), said: "The Conservative party have proven time and time again they are not fit to lead our great country" after "Boris Johnson failed our country and Liz Truss trashed our economy."
Luke Pollard MP (Labour, Plymouth Sutton and Devonport) has also called for a general election, saying: "The British people should decide our next Prime Minister, not a tiny group of Tory MPs working through a list of failed leadership contenders from the past."
In a statement he places the blame for the "economic crisis" at the conservatives' door, blaming the mini-budget's attempts to cut taxes for the super-wealthy.
Philip Skinner, leader of the East Devon District Council's Conservatives described Ms Truss's announcement as "very sad but inevitable under the circumstances".
Anthony Mangnall MP (Conservative, Totnes) has been openly critical of his party throughout the events of the last few months. He said: "The last six weeks have been awful. For the country, for the party and for nearly every hardworking constituency MP, Liz Truss went too far, too fast and it is absolutely right that she has now resigned."
He claims he is "not a tribal politician but one who believes that if you get it right locally you can get it right nationally."
Mr Mangnall called the last few weeks an "enormous distraction" from his job, which he said isn't easy, but an "honour to do". He has already offered his backing to Rishi Sunak in the now impending leadership election, but will offer "full support to whoever is elected."