Exmouth Withycombe RFC Ladies' rugby goes from strength to strength
---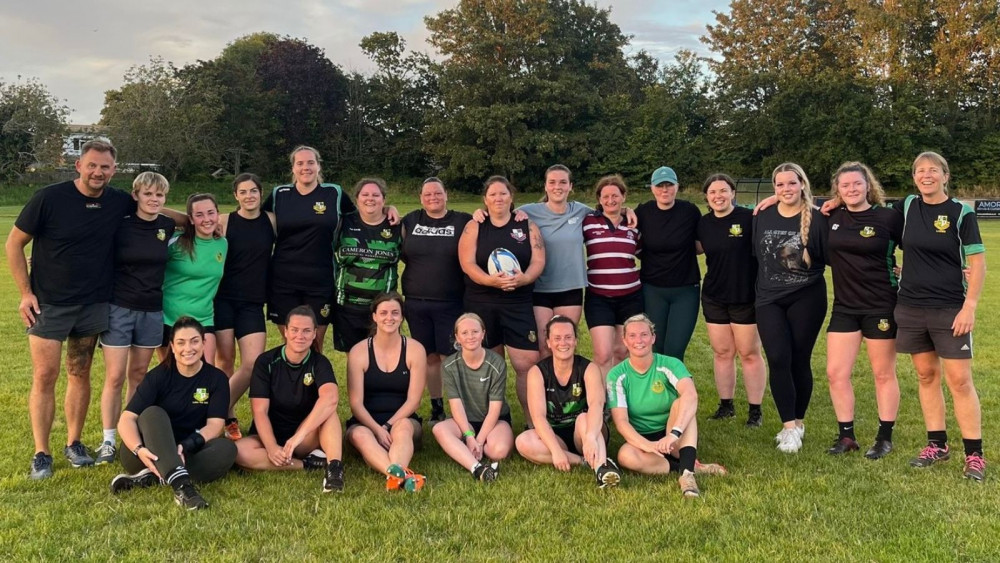 Training squad (Withycombe RFC)
By Bridget Culver
"As I put my boots on, I couldn't help but ask myself: 'What on Earth are you doing?'
It was the day of my 42nd birthday and I was about to play my first ever rugby match. The thought was fleeting, however the memories and friends that were made that day at Withycombe, and in the seasons that followed, will stay with me forever. Having played hockey, cricket, netball and football I now know that rugby is a sport like no other… I'm nearing 50 now and I still love playing it."
Women's rugby has seen a huge upsurge in performance, funding and participation over the last few years and women's rugby in Exmouth is no exception. Withycombe (Withy) Ladies are now an established team within the South West as they begin their ninth season.
Continued sponsorship from Cameron Jones Financial Management Ltd and now Everys Solicitors has meant that investment can be made to further develop the players and there is a strong coaching team led by Scott Todd and Brooke Bradley.
Scott is an ex-Irish Provincial and Army rugby player who brings passion (and his Irish accent) alongside a wealth of knowledge. As an Exeter Chiefs player, Brooke enjoyed an extremely successful season at Sandy Park last year and her calm and confident support is already paying dividends at Withies.
Rugby is a sport for all shapes, sizes and personalities. Through the years Withy Ladies has seen over 100 players who are all so completely different and yet are now lifelong comrades due to the 'Withy family'. Some players are fast, some are slow, some are strong. Tall, short, size 8 and not size 8… everyone has a position that suits them. A few of the current players offered their thoughts on 'Why rugby? And why Withies?'
"Junior rugby was great fun. It was about enjoyment at the lower age groups and as we got older, we began to look more at the fitness and tactical side of the game, which was perfect for me. I took a few years away from the sport but have now returned and stepping into the Ladies Team was like putting on a pair of my favourite comfy shoes – a perfect fit and made me feel warm and at home. It gives me a break from work, helps maintain my fitness levels and gives me friends on a Saturday night!" G, plays in the backs.
"Sport wasn't for me at school, but now I am a single Mum and wanted to meet new people and maybe get fitter. Then I saw that Withy had an established ladies team offering taster training; so, I went along and have never looked back. The sense of family here is overwhelming. The ladies, and club, are there for you in a flash, both on and off the pitch. Training can be challenging, but in a good way and there is so much support offered from the team of coaches, the players as well as the club members." A, plays in the forwards.
So, if you are looking for something different, or to come back to your comfy shoes, then why not give rugby a try? Withy Ladies train on Wednesdays 6.30pm–8pm at Raleigh Park, Hulham Road or find us on Facebook, Instagram and TikTok.