Exmouth Withycombe RFC loses out in season finale
---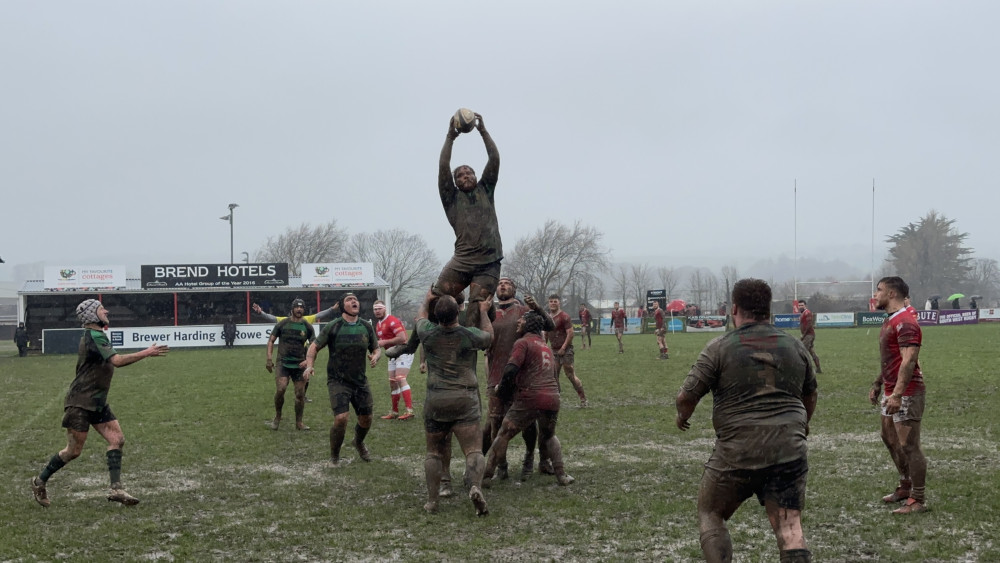 A line-out (Withycombe RFC)
By Adam Curtis
Final score: Barnstaple Athletic 15-7 Withycombe
With the rainy conditions likely to cause a few problems during the match, Withy would want to get a good start under their belt.
With an aerial tactic being deployed, the boys aimed to gain some good field position, but with each kick, Barnstaple would return the ball with a couple extra yards' interest.
Despite this, as the boys began to find their feet in the game, momentum shifted in favour of the Withy boys.
With another kick for possession being thrown forward into touch by the hosts, a lineout in a good position set the scene well as, following a couple subsequent penalties, Withycombe took the lead with Jack Fear crashing over the try line off the back of a driving maul. Tom Cooke's conversion attempt sailed through the posts to gain the full seven points.
Barnstaple responded immediately though, controlling the ball well from the restart, eventually creating the overlap and an opportunity for the winger to break and swan dive over the line. The conversion from 10-15m out missed the mark and Withy kept a narrow 5-7 lead – a lead which they took through to the half time break.
The second half started with Barum in control, pinning the Withies inside their own half. With increasing pressure, the ball slowly made its way towards the try line. A penalty kick to touch put them in a good position for their second try with another flying dive in the corner. The conversion was again missed but Barnstaple now had the lead. A third try was almost scored soon after, but there was relief in the Withy camp as the ball was knocked forward as the player attempted to ground the loose ball in the in-goal area.
With Barum's bench making the difference, their experienced players started to gain the upper hand, pushing relentlessly inside the Withy 22'. The visiting defence stood strong to deny any scoring, eventually earning the turnover and a chance to clear their lines.
With the penalty count building against Withy, they were placed on a team warning, eventually losing Joe Blyth to the sin bin.
This extra man turned out to be the golden opportunity for the home side as they exploited the gap in defence to score in the corner on the 75th minute to extend their lead past 7pts to 15-7. Unfortunately, despite a final flurry of play inside the Barum half, Withy were unable to conjure up any points to close the gap with the final score ending Barnstaple Athletic 15, Withycombe 7.
This game brings an end to the league season with Withy guaranteed a top-half finish, exactly where will only be determined later next month when all games in hand are completed.
Withy now have a couple weeks off but return on the 1st April when they welcome South Molton to Raleigh Park in round one of the Devon Junior Cup.