Second-half glory for Exmouth RFC against Drybrook
---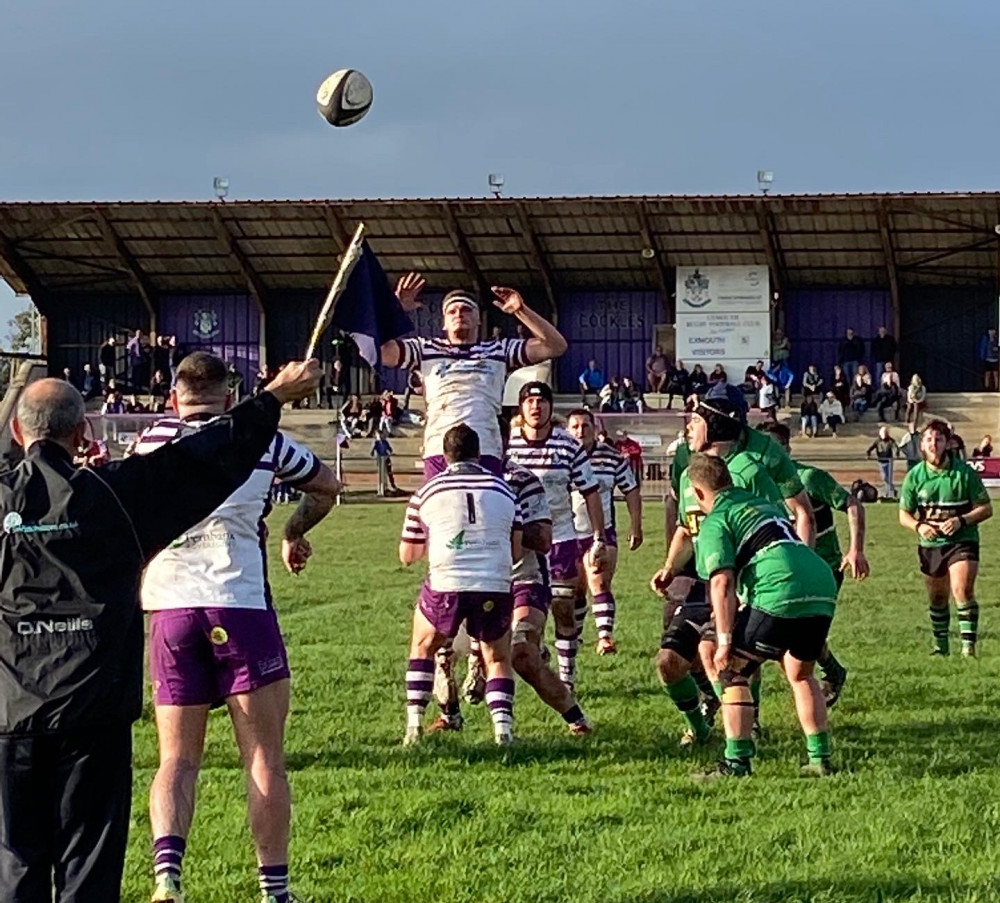 Exmouth Rugby 1st Team v Drybrook RFC Saturday 12 November (Home)
The visitors Drybrook arrived from Gloucestershire looking to upset the home side attack plan. Indeed, for forty minutes the game saw only two tries, one apiece 5-5 at half time. An early score from James Clarke put The COCKLES up inside 8 minutes, George Meadows missed the extras from wide out. Despite being on top for large parts of the first period, the home side could not break down Drybrook defence. The attack plan was strong from forwards and backs however it broke down with a few errors and staunch defence. On thirty six minutes the visitors Mike Addis broke away on the left hand side to score in the corner, conversion missed, the scores even at the break.
What didn't work in the first forty, definitely worked in the second forty. George Mears increased Exmouth lead with a well taken try, Meadows conversion, 12-5 just after the restart. Drybrook added to their tally through Sam Peaper, 12-10. From then on it was full on COCKLES. George Meadows hit a penalty with Toby Papp adding a try, converted by Meadows, 22-10. The final score of the game came from a deft chip through from Nick Headley, Clarke who rounded the defender on the outside raced to touch down collecting his second try. Bonus point win secured, The COCKLES should be pleased with their work. The scrum and lineout provided a great platform for the victory. Exmouth back line looking sharp as the afternoon progressed.
Five league points hold Exmouth in 8th position as they go in to a week break. Next up, an away trip up to Weston-super-Mare on 26th November.
QUINS crossed town to visit Withycombe 1st Team. Exmouth second string put up stiff resistance against a side who have recently put together a strong set of results. All pretty even at the break, Withies held an 8-0 lead courtesy of try and penalty. The COCKLES scrum and lineout held well however it was the home side that worked hard to deliver a penalty try, automatic seven points to increase their lead after half time. 15-0 the final score. COCKLES QUINS had their chances however were unable to get on the score sheet. A task made slightly more challenging with two yellow cards, down to 14 men for twenty minutes of the game. Withycombe definitely deserved their win, in fact it could have been by a larger margin had the Exmouth defence not held firm with great tackling all round. Exmouth will relish the home leg in February, a return for some super local rugby. Exmouth QUINS welcome South Molton 1st Team on Saturday 26th November. Kick Off at 2.30 pm.
NOMADS had a tough afternoon against visiting university side Exeter Engineers. They eventually ran out 34-0 winners. COCKLES NOMADS stuck to their plan to play open rugby and got held up on a couple of occasions. Time and again they got some great field position however could not capitalise. Certainly entertaining, this was a great precursor to the 1st Team game. A week break next weekend, then a visit to South Molton on Saturday 26th November.