Dinan, Exmouth's French twin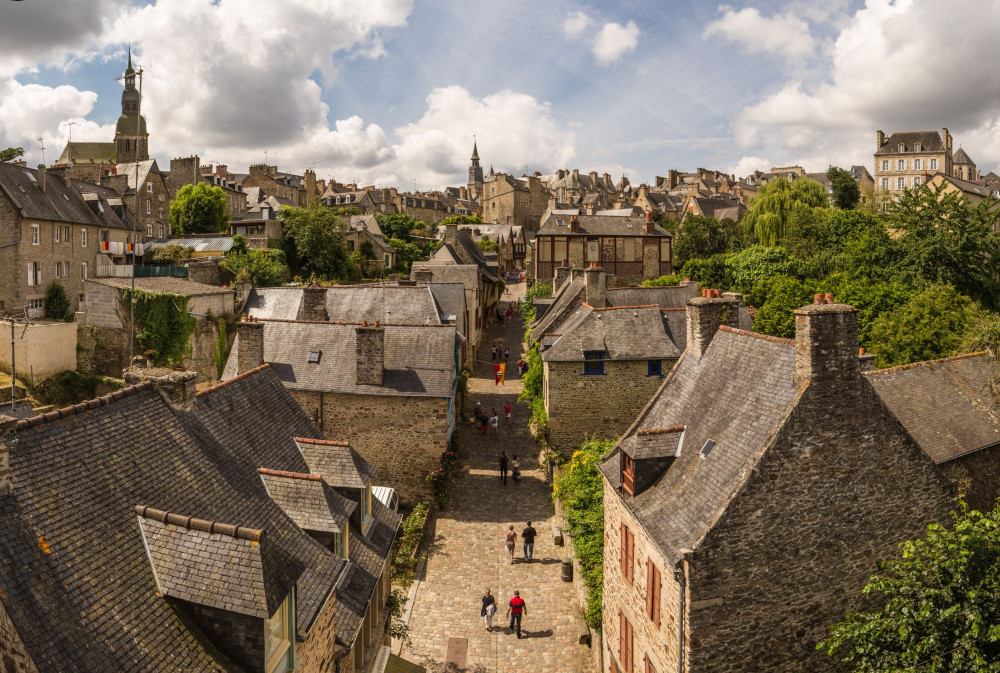 Rue du Jerzual (Jerzual Street), Dinan (Par Benh LIEU SONG — Travail personnel, CC BY-SA 3.0, https://commons.wikimedia.org/w/index.php?curid=22657895)
Exmouth is twinned with a town in Brittany in north-west France called Dinan.
The town is the namesake of Exmouth's Dinan Way - and Exmouth of Dinan's Boulevard d'Exmouth.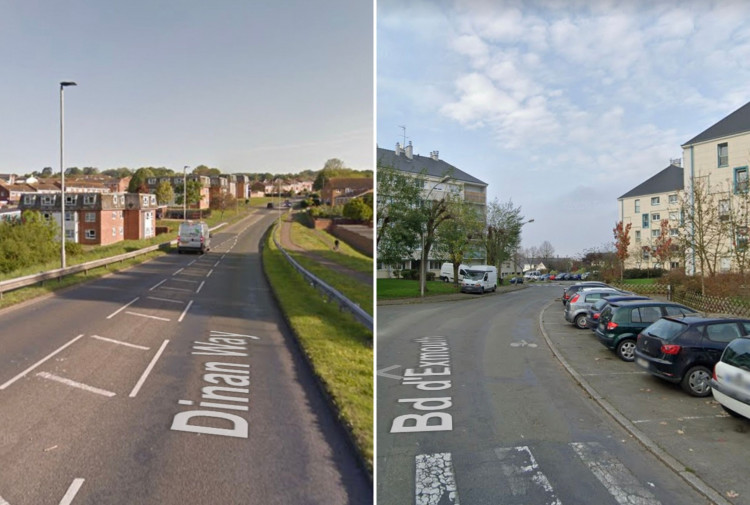 L: Dinan Way, Exmouth. R: Boulevard d'Exmouth, Dinan (Google Maps)
History
The area of Dinan has been inhabited since the Neolithic era (around 4300-2000 BC), similar to Exmouth.
In 1064, William the Conqueror besieged Dinan's motte-and-bailey castle, as recorded on the Bayeux Tapestry.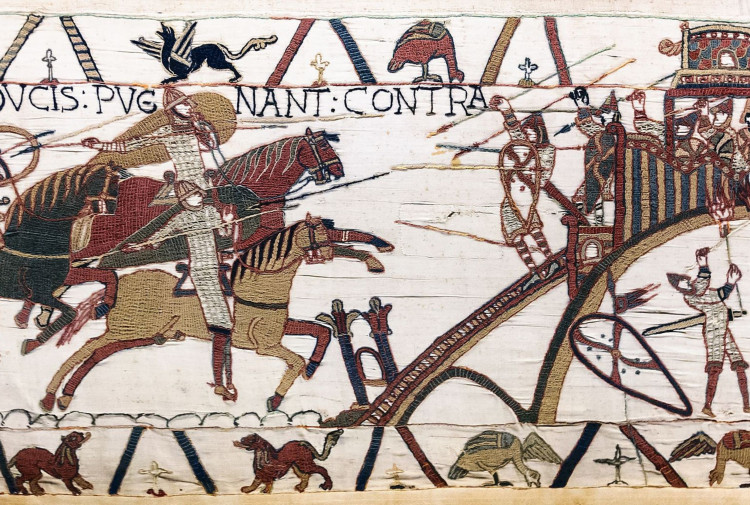 The attack on the castle mound of Dinan, reading 'Here the soldiers of Duke Guillaume fight against the Dinannais' (Bayeux Tapestry)
In 1357 the city was unsuccessfully besieged by English troops and Bretons loyal to Jean de Montfort. Dinan officially became part of the Kingdom of France in August 1532.
From 1769, the town became popular for its mineral water and received noble spa guests, similar to Bath or Tunbridge Wells in England.
In the 1800s, Dinan became a popular holiday destination with the British. T.E. Lawrence, known as 'Lawrence of Arabia', visited Dinan in the 20th century, saying: "I fell in love with the Rance [river]".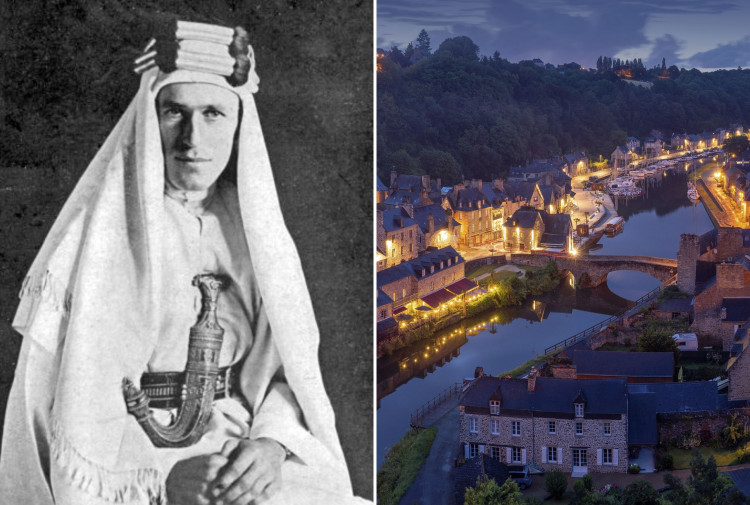 L: T.E. Lawrence. R: The river Rance, Dinan
Geography
Unlike Exmouth, Dinan is not on the coast. It instead controls the river upstream of St. Malo, similar to Exeter's relationship to Exmouth.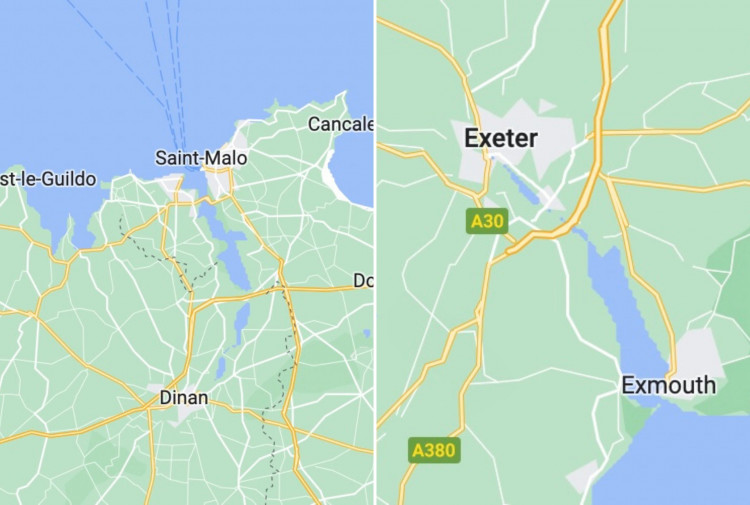 Dinan and Exmouth's respective locations (Google Maps)
The town is couched on a hillside overlooking the river Rance. The area near the river is called the Port of Dinan and has very steep streets leading up to the town.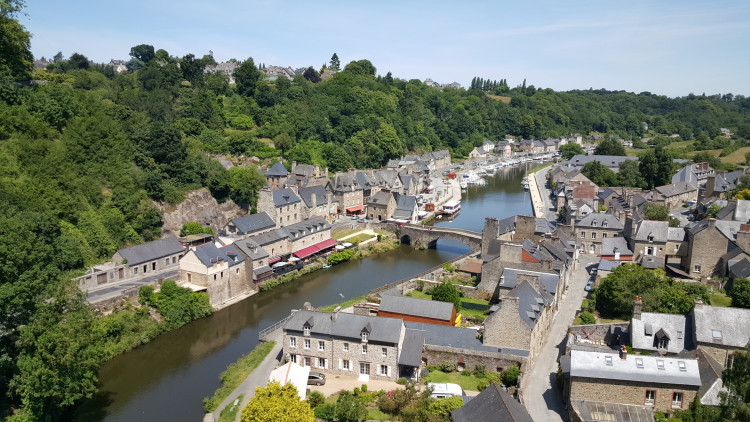 The Port of Dinan (Par Mathieu BROSSAIS — Travail personnel, CC BY-SA 4.0, https://commons.wikimedia.org/w/index.php?curid=107958647)
Population
Dinan's population as of 2019 is 14,407, less than half of Exmouth's 2011 population of 34,432.
Many people speak Breton, which is similar to the Celtic languages of the British Isles such as Cornish or Welsh.
How can I get there?
Dinan has a railway station, with journeys lasting around three hours from Paris via St. Brieuc.
It is also within two to three hours' drive from Cherbourg and Roscoff, which are reachable via ferries from Poole and Plymouth.