Survey launched to help shape 'eco hub' plans for Exmouth public loo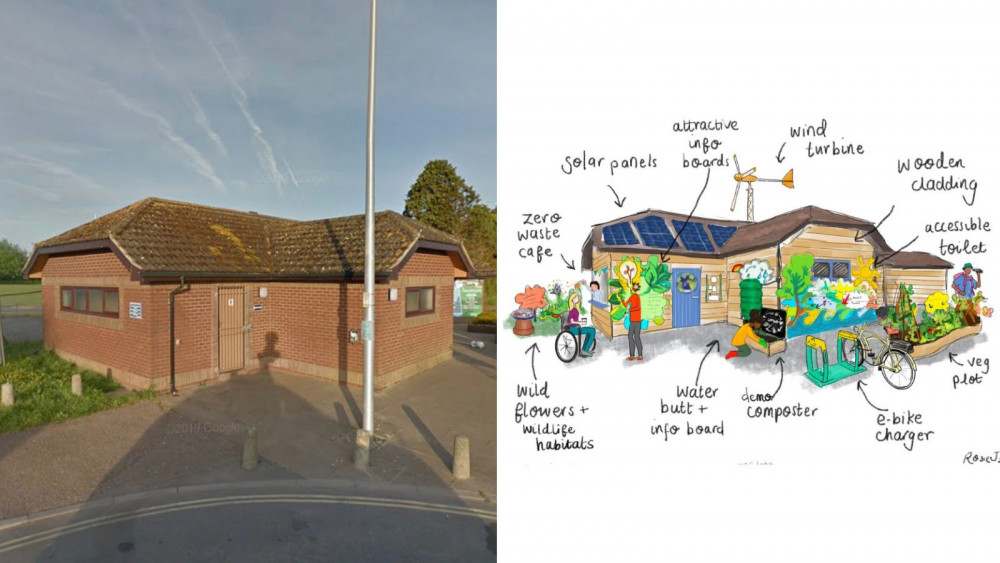 L: Imperial Recreation Ground public toilets (Google). R: Artist's impression of the proposed eco hub (Transition Exmouth)
Environmental awareness group Transition Exmouth and Exmouth Town Council are developing plans to turn the public toilets at the Imperial Recreation Ground into an 'eco hub'.
They have now launched a survey asking people what services, activities and events they would like to see there.
The hub could feature a cafe, wildlife habitats, solar panels, a wind turbine, vegetable plot, an accessible toilet and more.
It comes after East Devon District Council advertised for people to "creatively repurpose" several Exmouth loos it cannot afford to run.
An Exmouth artist has also applied for planning permission to turn the public toilets on the Maer into an art studio in a separate project.
A Transition Exmouth spokesperson said: "We are putting together a business plan to take over the toilets at the Imperial Recreation Ground site to create the 'Call of Nature Eco Hub'.
"Part of the business plan needs to include what you, the community of Exmouth, want to happen in the eco hub."
The survey is open until the evening of Thursday 25 May. The group will use the replies in a presentation to East Devon District Council.