Exmouth Withycombe RFC wins battle against Brixham Crusaders
---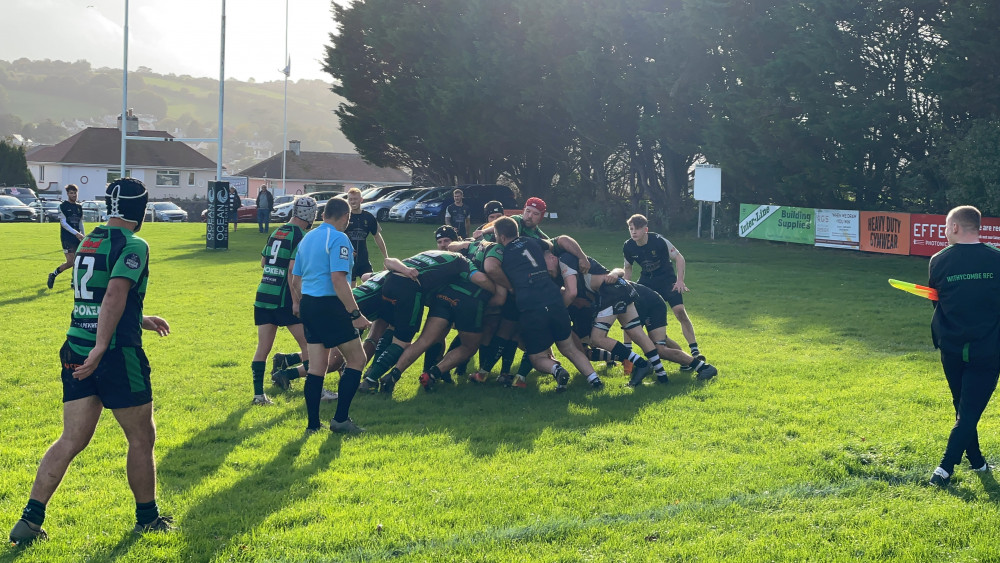 Battling it out (Exmouth Withycombe RFC)
Final score: Withycombe 21-14 Brixham Crusaders
It was Withy's first trip to Astley Park at a senior level and with the opposition being a new one, nobody knew what to expect.
Both teams were keen on getting a good start as a flurry of early activity saw plenty of action in the middle third.
Early on, Withy made sure of their dominance up front, making each scrum hard work for the host side. This forward strength was key in the opening score as the ball came out from a maul on the 5m line and back to the awaiting Lewis Vaughan who crashed through the defence to score on ten minutes; a Harry Symons conversion topped up the points to seven.
Brixham later had a chance to add some points to the scoreboard after some strong attacking play of their own, but the attempted penalty kick sailed wide. This wasn't to trouble the Crusaders though as the ensuing dropout was carried out wide to allow a dash for the line to level the scores, thanks to a lucky gust of wind changing the direction of the ball towards the posts!
Withies were next to score following a long period of level play. Some brilliant pressure deep in the Brixham 22', combined with the multiple scrum resets proved too much for the home side front row as they collapsed the driving maul, inches from the try line. The infringement awarded Withy the penalty try and saw the loose head prop spend ten minutes in the sin bin. Withy were back in front, but with several injuries already affecting the Crusader's, the hosts were now left without a full front row and the game went to uncontested scrums.
The uncontested scrums continued into the second half following further injuries to Brixham, this meant that Withy's most potent form of attack this week was hampered. With this proving to be a massive leveller in the game, the majority of the second half saw plenty of end-to-end play, just no points scored!
Withycombe slowly began to gain the upper hand during the final quarter of the game and managed to keep Brixham largely pinned in the region of their 22'. Unfortunately, Withy were unable to break through the defenders to score. Eventually, however their persistence paid off with just three minutes remaining as Luke Davis finished off some good team play to score under the posts for a converted score.
Keen to get the bonus point, Withy started strong from the restart as they started to look for opportunities in the 22' again. Unfortunately, with the loose pass not finding it's intended target, Brixham collected the ball and ran the length of the field to score under the posts for a consolatory losing bonus point.
The boys are back home again next week as the league continues as we welcome table toppers Tavistock to Raleigh Park. Kick off 2:30pm.