Exmouth's MP should have come out against Johnson sooner | Opinion
By Cllr Paul Millar (Labour, Exmouth Halsdon)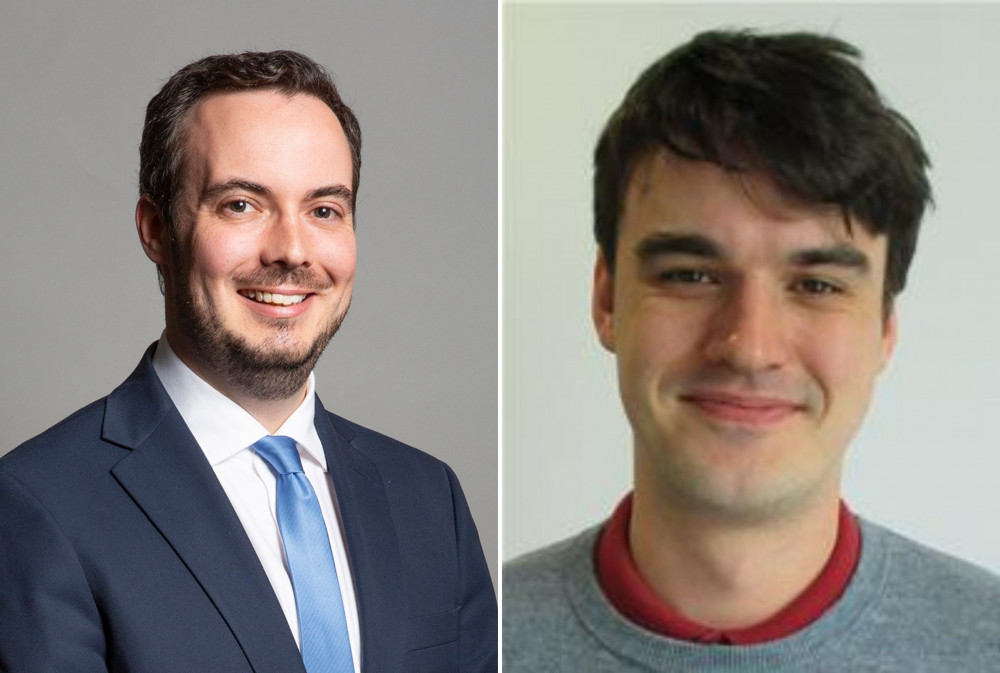 L to R: Simon Jupp MP (By David Woolfall, CC BY 3.0, https://commons.wikimedia.org/w/index.php?curid=86665477, changes made), Cllr Paul Millar (EDDC)
Ed: This opinion article concerns Simon Jupp MP's call for the PM to resign yesterday (Wednesday 6 July). Boris Johnson is set to resign later today.
----------
East Devon MP Simon Jupp has a lot to answer for. Only yesterday did he finally act and jump on the bandwagon of ministers and MPs calling for him to go.
There was the opportunity last month to dispose of the PM for the good of the country through a no-confidence vote, but Jupp stayed silent. Now the quiet man has at long last turned up the volume.
But it was too late - as the rats left the sinking ship, senior Tories turned on each other with a chaotic 24 hours of resignations, a revenge sacking, and a leadership bid from a serving cabinet minister.
This was meant to be the government of 'levelling up' the country through new infrastructure, and Exmouth was referred to as being part of that project in December 2019. But not a penny has been received because of the Conservative Party's internal crisis.
We've had partygate, the Owen Paterson lobbying affair, and the unforgivable promotion of Chris Pincher to Deputy Chief Whip who among other duties would vet complaints about sexual assault by parliamentary staffers.
I was a parliamentary staffer for three years working for Labour MPs, so I feel it personally. To think what some of my former colleagues still working in Parliament are subject to; this sinister and inappropriate working environment based on imbalance of power. I recall the fact we were on a journey of improving that through an independent complaints system, but Johnson's catastrophically poor judgement regarding Pincher has undone all of that.
To be fair, not all Conservatives elected at the last election have shared what I believe to be Jupp's moral cowardice to not speak out sooner (I refer to the likes of William Wragg who had for a long while called for Johnson's resignation on the basis of his total lack of integrity).
But the majority of Tory MPs, including Mr Jupp, have failed to set a good example to those of us active in local government, some of whom make financial sacrifices to carry out this public service, where the lack of investment in infrastructure means we are forced against our will to make unpopular decisions.
Hopefully by the next time I write, local government will receive some direction from a functioning government at Westminster. In the meantime, Devon County Council is £40 million in the red, and East Devon District Council is struggling too.