Riviera woes for Exmouth Withycombe RFC against Torquay
---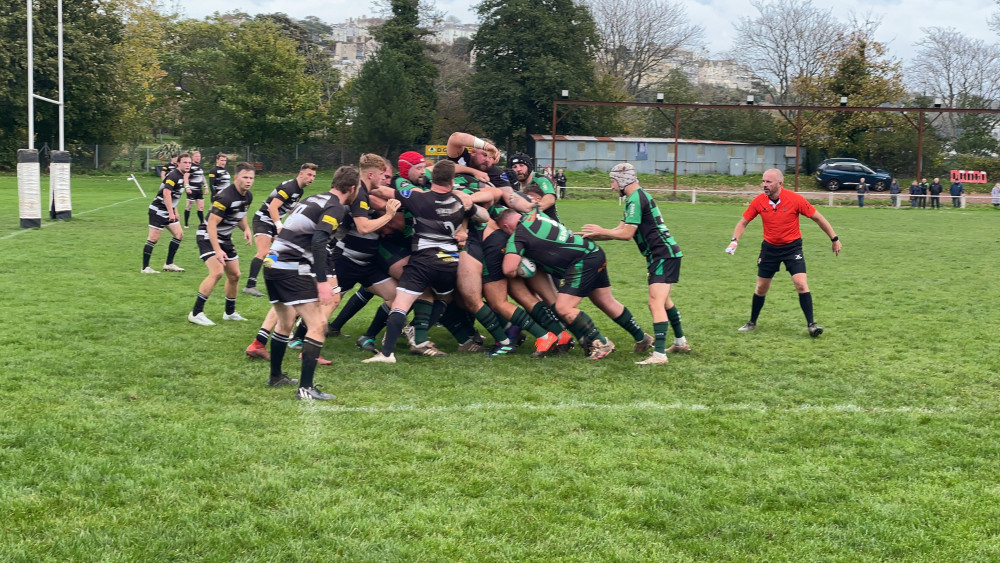 A maul (Exmouth Withycombe RFC)
Final score: Torquay RFC 27-20 Withycombe RFC
Withy started the game well from the kickoff, making some decent ground from their attacking phases. Despite this, it was Torquay that thought they'd opened the scoring from a run down the left wing, only to drop the ball going over the line!
This 'close shave' gave Withy an additional kick and with a great 50:22 kick, Withy were camped out in the Torquay 22'. Unfortunately, even with all the pressure, our boys were unable to come away with any points.
With Torquay now in possession of the ball, they managed two quick tries, one down the left wing and the other from an interception at close range. This gave the home side a sudden 12-point advantage against the short-term run of play.
Withy battled back and with the scrum ball clearing out to Danny Sansom, ground was made available and a well-timed pass out to Vinnie Neath-Rogers ensured the points with a try near the posts; Harry Symons' conversion was good to close the gap down to 12-7.
Shortly after, Withies were on the front foot once again and began to pile on the pressure back in the 22', unfortunately to no avail as the home defence stood strong to deny a try.
Withy still managed to get reward from their efforts before half time as with Tic's Second Row Jon Woodhead's yellow card leaving a large gap in the defensive plan, allowing for the Withy maul to walk over the line and score courtesy of Chris Gibbons to level the scores 12-12 at the break.
The deadlock was broken just a few minutes into the second half with the home side regaining the lead with a run down that same left wing. With some close passing they beat the Withy defenders to break and score. This lead didn't last long as Withy equalised little over 5min later with another driving maul. Mike Richards the one emerging with the ball to bring the game back level at 17-17.
Withycombe pressure picked up again, this time rewarded with a penalty from roughly 10m inside the Torquay half. A long-range kick from Symons sailed through the posts to put Withy ahead at 17-20.
With the close game meaning the result could go either way, Torquay struck again down that dangerous left wing with more flat passing to once again break free and swan dive to score on 70min
With one final push from Withy, play was going well but with the clock now into the red and the ball now back in the Tics' 22', the ball was adjudged to have been isolated, bringing an end to the game.
Full time, Torquay 27, Withycombe 20.
The missed opportunities in the first half may well have proved costly for the boys today, but they still come away with a losing bonus point which is key in such a tight league.
Time to regroup and prepare for next weekend where we welcome Devonport Services II to Raleigh Park. Kick off 2:30pm