'Ugly win' for Exmouth RFC away at Okehampton
---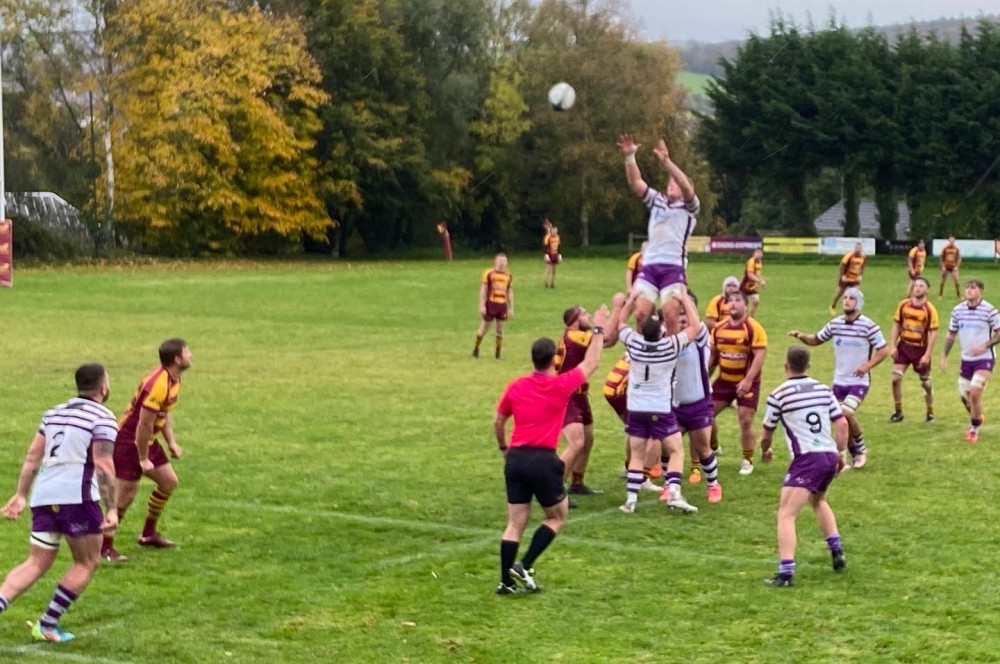 Exmouth lineout (Exmouth RFC)
Exmouth Rugby 1st Team vs Okehampton RFC - Saturday 22 October (Away)
Final score: Exmouth RFC 21-17 Okehampton RFC
The COCKLES travelled to Okehampton on Saturday, seeking their first win in a while, they were rewarded following an afternoon of hard work, closing out 17-21 winners.
It would be fair to say that this was an ugly win, however an away win is especially tough. It did not take Exmouth long to get on the scoreboard, continued early pressure resulted in 3 points from a George Meadows penalty. This was the pattern of the game for the first fifteen minutes, 3-6 to Exmouth, all penalties. On 21 minutes Okey were awarded a penalty try after Dave Bargent was adjudged to take a tackle early from an Okehampton tap penalty close to the try line. An easy 7 points for the hosts and Bargent collected a ten minute rest. Score 6-10. On the half hour Meadows slotted another penalty, although the COCKLES could have had a penalty try of their own after an Okehampton defender appeared to slap the ball down as Exmouth headed to the try line. A few minutes later Fin Marks did cross to score a well taken try, Meadows converted, 10-16 at the break.
Plenty of endeavour, the pack were in control and frustrated the watching home supporters. Lineouts improved, Exmouth used this platform well. Ten minutes after the restart, Dave Bargent found himself in position out wide left to put another 5 points on the board, Meadows missed the conversion this time. 10-21. Okehampton, playing down the slope strung together numerous attacking lines, the COCKLES defence largely held out. Tom White added a try with Dan Fogerty conversion, closed the gap to 17-21. Meadows did miss a reasonably straight forward penalty that would have taken the visitors a little further away. A messy 20 minutes ensued, Okehampton collecting two yellow cards however Exmouth were unable to make the numerical advantage count to increase their lead.
The COCKLES squad put in the effort at training to deliver an improving performance. If Exmouth could have held on to a ball that became slippery during an afternoon of changing weather, the score line would have been higher, the back line did split the defence on a number of occasions. Defensively the boys put their bodies on the line and shut out the energetic hosts.
On to Saturday 29 October, the COCKLES take on Launceston at home. Kick off @ 2.30pm.
QUINS lost out to a robust Honiton 1st Team. The 10-39 final score line did flatter the visitors with two late tries in the closing minutes, missed tackles didn't help. Exmouth points came from second half tries from Martin Westaway and Joe Harris. The first half was pretty close with Honiton edging in to an 8-0 lead. The second forty minutes proved more challenging with a total five tries for Honiton. A trip to Devonport Services 2nd Team in Plymouth will be another tough test on Saturday 29 October.
NOMADS impressed in their 46-14 win at home to Honiton 2nd Team. The visitors frustrated Exmouth and stuck to their task throughout the afternoon. Ultimately the NOMADS were more clinical and were made to work hard for their victory. Scores from Juls Lucas (2), Connor Smithers, Ross Matthews (2), Isaac Wales & Harry Griffin. A trip to Tiverton next week, Saturday 29 October.