Young players wanted at Exmouth Rugby Club Juniors
---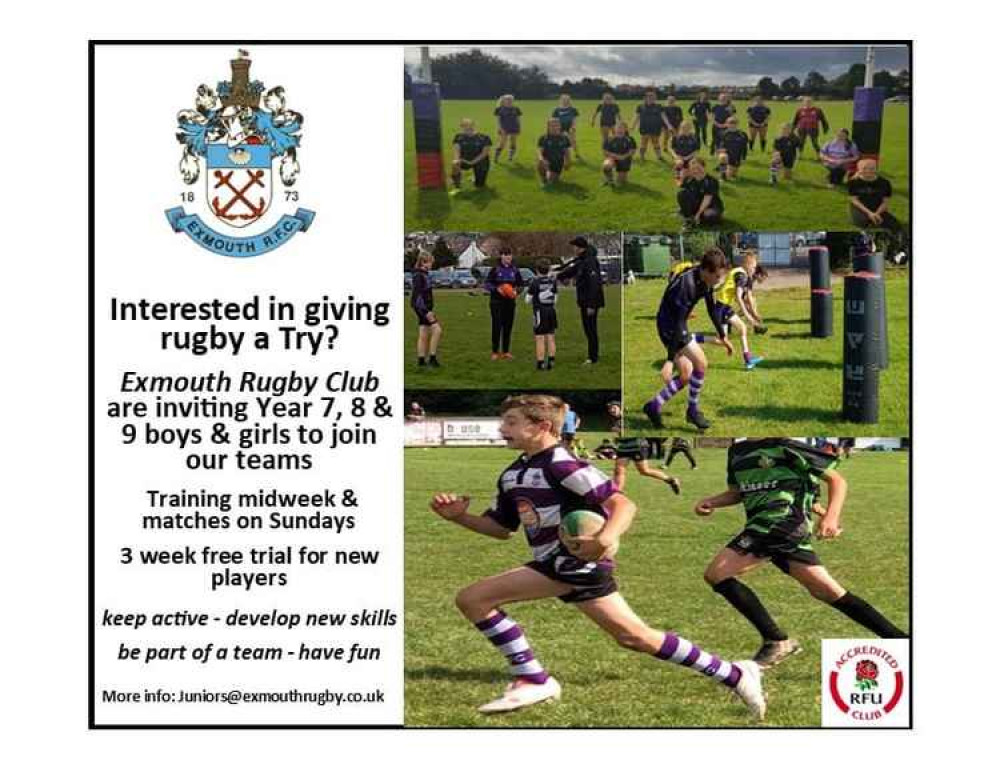 Credit: Exmouth Rugby Club Juniors
Exmouth Rugby Club Juniors are encouraging new players to join their inclusive, friendly club.
Both boys and girls are welcome from the ages of 4 to 17 (U5-U18), and do mixed rugby up to age 10 (U11).
School years 7, 8, and 9 in particular are encouraged to join, as well as U18 boys for next season.
The juniors at the club enjoy midweek training after school, and matches on Sundays until the end of May, after which there will be a once-weekly summer activity program.
New players can expect a 3-week free trial, after which the cost of a year's junior player membership (covering the parents and the child) is currently £90 - working out at £1.70 per week - and siblings of players can enjoy a subsidised membership fee of just £30.
Junior Chairman Tristan Bassett said: "U5s and U6s are all about fun and basic skills such as handling, agility, balance, and coordination.
"U7s and U8s do tag rugby, and then they start doing contact rugby in the U9s, and then that progresses until they get to U16s when it's almost as it would be in the adult game.
"Rugby helps develop the social side of things as well as the physical and technical - normally, after training or a match on a Sunday morning, players will get a little bit of food, such as a sausage roll, hotdog, or pasta. Even other clubs will feed them and water them afterwards - it's a rugby thing.
"Come along, give it a go, you'll be made to feel really welcome and it'll help you with your technique and confidence. Just try it out and you'll enjoy it.
"It doesn't matter if you haven't played before - I coach the U16s, I've got several lads there who've never played rugby before and started at the beginning of the season. They shocked their parents in a nice way by taking to it and they've done really well."
The club can also prove to be a great springboard for talented youngsters looking to progress their sporting careers.
Tristan continued: "We're a great club, we're one of the oldest clubs in the county, having been founded in 1873. We also celebrated our 40th juniors' year a couple of years ago.
"Our first team plays in the South West Premier league, and as a club we're offering kids a really good progression route into being lifelong rugby players and fans.
"England player Joe Launchbury started his career at Exmouth as an U10, and Kayleigh Armstrong, who's in the Exeter Chiefs Women's Squad, came up through the juniors too."
If you or your child are interested and would like to give it a go, please email [email protected]